This fall we are bringing the fun to
CARTAGENA 🇨🇴
October 18-22
2019
$950 - SINGLE BED ( 4 PEOPLE PER ROOM)
$400 NON REFUNDABLE DEPOSIT TO HOLD YOUR ROOM
(DEPOSIT USED TOWARDS TOTAL COST)
INCLUDED
4 NIGHTS ACCOMMODATION AT CASA GUERRERO
ALL BREAKFASTS
TWO LUNCHES AND TWO DINNERS
ALL FITNESS CLASSES AND ACTIVITIES
PRIVATE BOAT PARTY TO THE Rosario Islands AND ISLA CHOLON
TRIP TO VOLCAN TOTUMO
CHIVA BUS RIDE AROUND TOWN
KB WELCOME PACKAGE
NOT INCLUDED
INTERNATIONAL FLIGHTS
TWO LUNCHES
TWO DINNERS
OUTSIDE DRINKS
CARTAGENA AIRPORT IS 15 MIN AWAY FROM WHERE WE ARE STAYING. CURRENTLY WORKING ON TRANSPORTATION DETAILS.
WHY CARTAGENA?
The the first couple of #killercations , it is extremely important to me to visit wonderful Latin American cities where culture, food and atmosphere goes hand in hand with what KILLER BODIES represents. For our second trip what better city than where the history is deep, the food delicious and a place that no matter where you, you can not escape the music.
WHAT WILL WE BE DOING?
EVERYTHING.
First and foremost this is a wellness retreat, A KILLERCATION. which means we defines wellness in our own terms and understand that that one word can have many meanings to different people. Every day we will have two workouts. The formats will be interchangeable depending on that day's activity. We'll be doing HOT KILLA on our rooftop, learning CHAMPETA, taking KILLER BODIES outdoors and dancing the night away whenever we hear a beat drop!
All of our workouts are modifiable, so don't hesitate to join us if you are just starting your fitness journey, but I highly recommend stopping by the studio and taking a class or two so you can see how we get our sweat on.
PARTY. ADVENTURE. THEN WE PARTY SOME MORE.
We are putting in the work so you KNOW we'll be celebrating even harder. What's a trip to Cartagena without taking in the vibrant streets, music, food and 27 tiny islands that border the bay?
I'm setting up a welcoming surprise for my Killas and can't wait to get there already. We will be traveling to VOLCAN TOTUMO to take a unique mud bath all together. We'll have our very own boat so we can see the beautiful ROSARIO ISLANDS at our own pace and stopping by CHOLON to party it up in the water.
Unlike in Samana, I am making sure we all have free time to explore the Cartagena streets on our own. Between the old and new city, artwork, bars and restaurants, there's many options to choose from.
FULL ITINERARY up in a MONTH.
ACCOMM0DATIONS
TAKE A QUICK LOOK AT CASA GUERRERO.
It's situated in the Getsemani neighborhood, filled with street art, amazing cafes and walking distance to the old city.
THE SET UP.
THINK OF A Killer Bodies REAL WORLD EDITION. We have 6 bedrooms, each with 4 single beds. If personal space and silence is for you, I'd say hold out for our next vacay in FEB 2020. The house is gorgeous and colonial, has an indoor pool, a scenic roof deck with a jacuzzi, two living rooms (house party anyone?) and an enormous dining room where we'll be gathering for breakfast every morning. We'll have an amazing team cooking some of our meals and making sure everyone is comfy and has everything they need, but we will each be sharing a room with 3 other individuals. If you have anyone in mind please reach out and I will pair you up.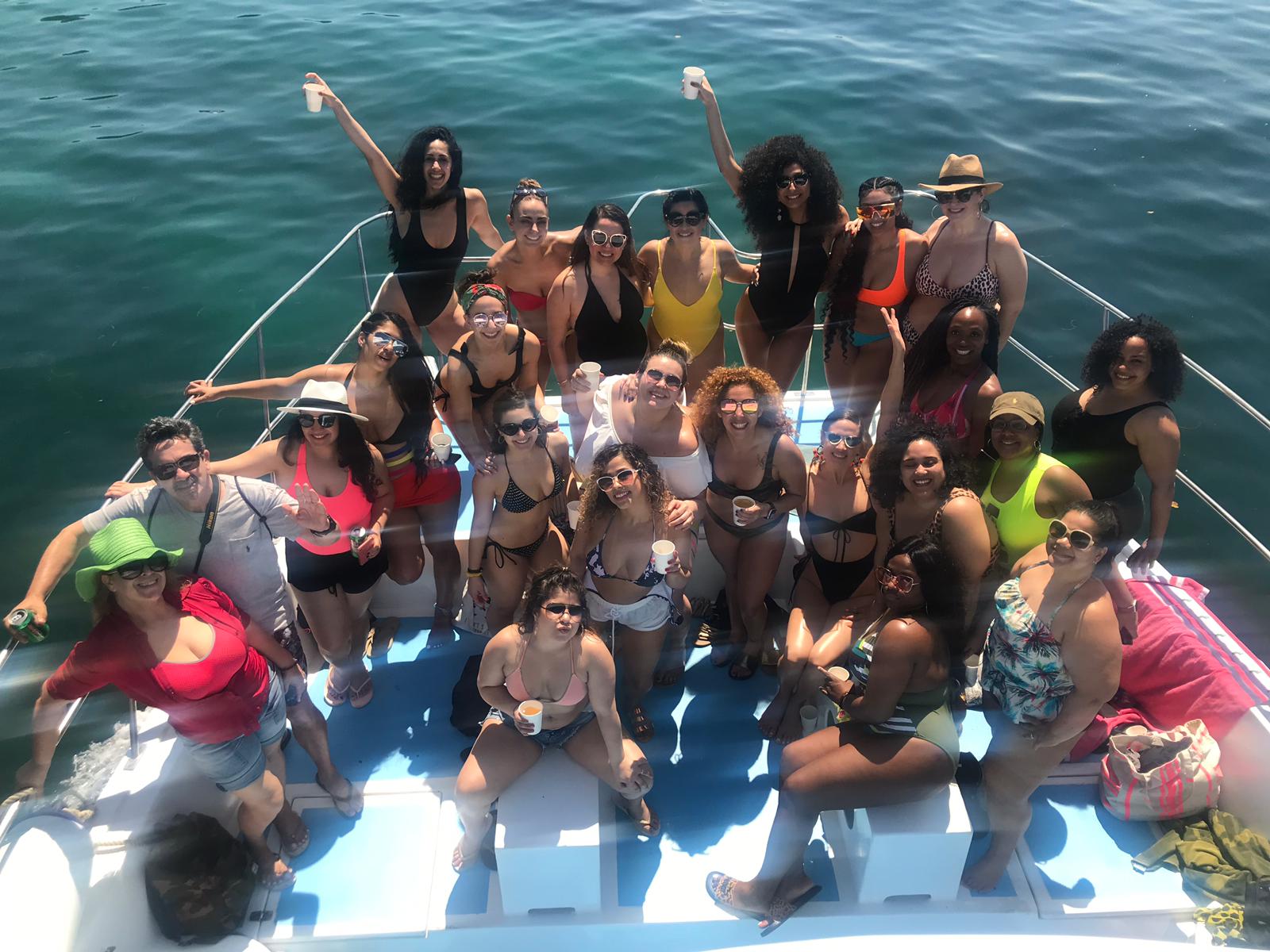 So many good things to say I don't even know where to start, but here goes.
The workouts were EXACTLY what I wanted, I was concerned a little when I saw a Killer Beats class, as I had not taken one before this trip, but the class was so good, I was getting my workout in plus getting some dancing in there. The workout at the beach was the most fun, you would think that working out at the beach while people are tanning or swimming would be intimidating, but no, I felt so confident and invigorated. Meliza has a way of making you feel proud of yourself so I never felt uncomfortable during the workouts.
Samana Ocean View Eco-Lodge was very nice and peaceful, I really needed to disconnect from the hustle and bustle of the city. The villas have beautiful views of the mountains and the water. I woke up every morning to the sound of birds chirping.
The food was delicious I ate a lot and I never felt sluggish. All the ingredients were local and the food was authentic Dominican food.
The excursions were so much fun and the scenery was so beautiful. The hike was intense but felt so great, and the pay off was amazing, because the hike ended with a gorgeous waterfall we all jumped into. We packed a lot of activities into our time there even on the travel days. We had a boat party/ride on a Catamaran, went snorkeling, lunch at two beaches, hiked, visited 5 beaches and even got a workout in on the two days of travel to and from the airport.
All in all this was the first getaway where I was able to enjoy myself and actually did things that were beneficial for my overall health, mental and physical.
Jacqueline

"The first Killercation exceeded my already high expections x10. Meliza did an amazing job of making sure the trip was a true cultural experience and not just your average vacation. Every little detail of the trip was so thoughtfuly planned and well organized. The location, the excursions, the workouts, the accommodations and the food were all excellent. However, the best part was how Meliza was able to bring together over 20 women with incredibly different backgrounds, ages and personsonalities. This gave us the opportunity to all learn something new from each other & connect with people outside of our daily circles. If you're on the fence about going on the next Killercation, just book it. The Killer Comminity that Meliza has built is something so special that I'm beyond thankful for. "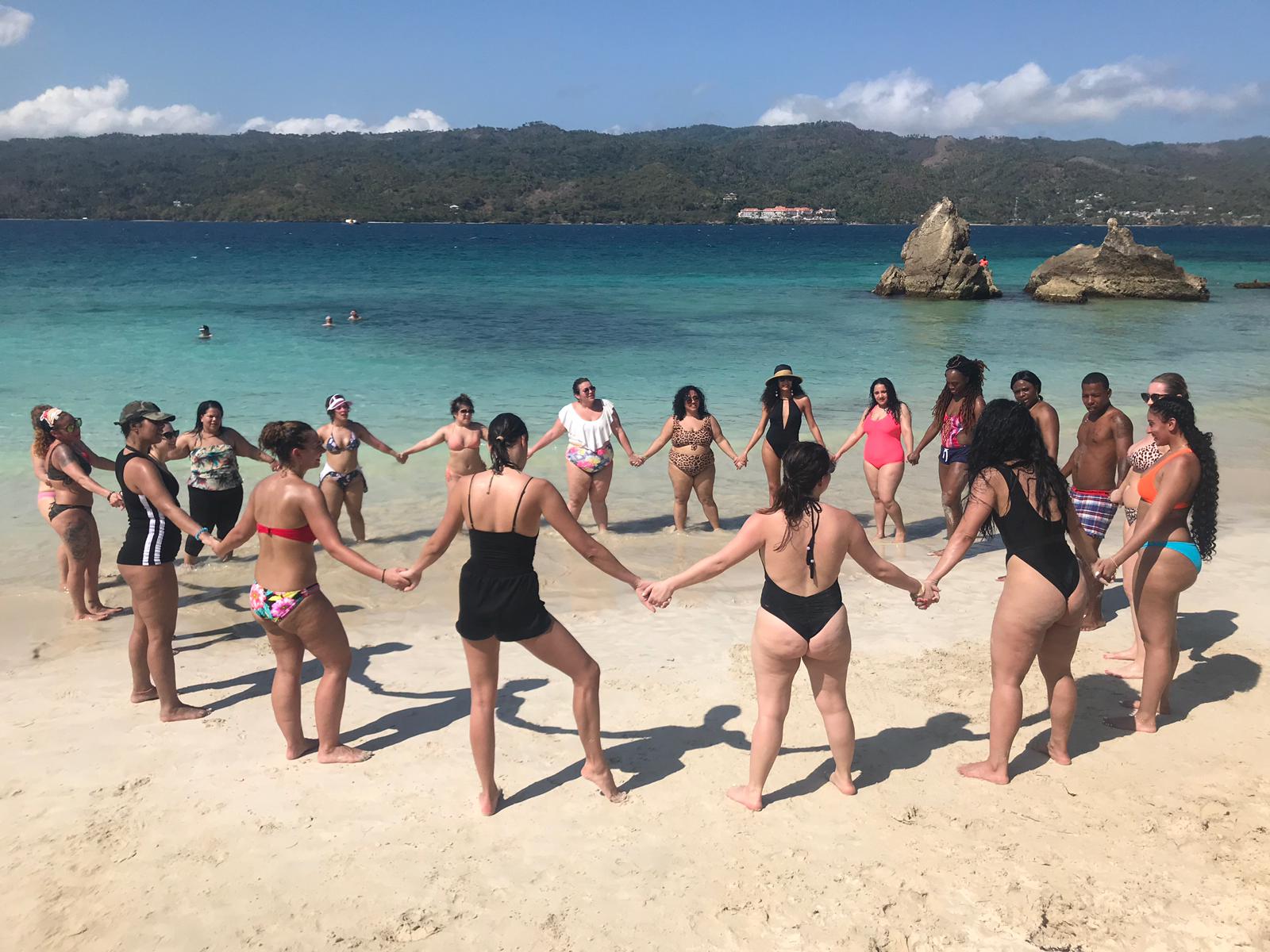 "Killercation in Samana was an unforgettable experience. I've known Meliza for several years, and am a routine Killa at her classes. I enjoy fitness, dancing and traveling so when she announced the beginning of Killercations, a wellness retreat, I knew I had to partake. Being from the Dominican Republic, it was exciting for it to be the first destination. Meliza picked the most amazing location for this retreat. Ocean View Samana Eco Lodge feels like a paradise within paradise. There are no televisions, no air conditioners, which was frightening at first but by the end of day 1, we realized that you don't need those things. It was incredible to be able to disconnect from the world. Having the entire villa for the group ensured that the group was kept together at all times. The daily meals prepared for us by the chefs were absolutely delicious, and gave the group an authentic taste of the Dominican Republic. Meliza selected the top attractions Samana has to offer for our group excursions. From the private boat party to Cayo Levantado, to the hike to Salto Limon, and four beach tour, it truly felt like we had experienced the best Samana has to offer. It would not be a killercation without daily workouts. We started our mornings at the Ocean View's outdoor studio, which in itself was an experience I cannot even begin to describe. Meliza introduced her newest format, Hot Killa, during this trip and it is already one of my favorites. Of course there was also dancing! One of the classes was taught by Jessie Diaz, a dancer who encourages body positivity. The class was full of inspirational dialogue, as well as a fun routine to "Te Bote." Of course, the trip would not be complete without a killer workout at the beach! This was a one experience for many, and some did not want to participate, but once we started everyone committed and even some locals joined! All in all, the trip exceeded my expectations. To be on a trip with 20 women, many whom I did not know, caused some anxiety. By the end of day 1, everyone was cracking jokes and laughing at our journey to get to Samana. There were so many different personalities, different bodies, different upbringings. The group could not be more different, but that made the experience even more beautiful. There aren't enough words to express Meliza's dedication as an instructor, dancer and friend. She puts 1,000% of herself in everything that she executes. She made sure everyone felt comfortable and arrived to the location safely. I look forward to seeing her company grow and joining more Killercations in the future!"
--

Carol
"I was a little nervous about going on this Killercation with women I didn't know too well but have only seen in the few classes I took with Meliza. Her spirit and warm personality made me feel confident to take the leap and do something different for once. It was the best decision I made for myself. Not only did I push passed my comfort zone, but I met some amazing beautiful souls who have lifted my spirit in a way I didn't know I needed. Working out on vacation was the part I wasn't sure I'd enjoy, but everyday we had a new style of work out which made me love doing it. I pushed myself to show up to every event and pull
through even if i didn't feel like it. We also partied it up and had
an amazing time aside from getting our bodies right and tight. It was so well organized that I was able to focus on myself and actually just live in the moment. There isn't enough words to explain what we experienced in Samana, DR, except for the fact I would do it all over again and tell everyone I know to go on this trip! Thank you to Meliza for this amazing life changing Killercation!"
"There are not enough words to describe the magnitude of how much Meliza Fernandez's Killercation impacted my entire soul. From the amazing details in each workout, the great products her sponsors provided, the sheer beauty in the location (Samana Oceanview Eco Lodge), and each adventure that forced us out of our comfort zone only to explore the inner KILLER within ourselves; this retreat provided us with a renewed sense of self. It was the perfect combination of the energy and love that Meliza cultivates in each of her classes. Whether through dancing or burpees , her ability to push you to reach your potential where the focus is not on perfection but acceptance and progression, helps discover aspects of yourself that you didn't know you had or were too scared to share. Her devotion and authenticity radiates and has no choice but to generate emotion and unite all those around her. That is what this trip did, it united a group of 20+ women all from different shades, sizes, perspectives and personalities, created a bond to which we all can genuinely say will forever be cherished. For that I genuinely say, from the bottom of my heart, THANK YOU!"